Are you thinking about joining the Survey Junkie affiliate program?
I've been a Survey Junkie affiliate since March 2019 and I've made $61,663.75 with them as of today. That's over 60K in 14 months, not bad, right?
Here's a proof of my stated earnings being a Survey Junkie affiliate: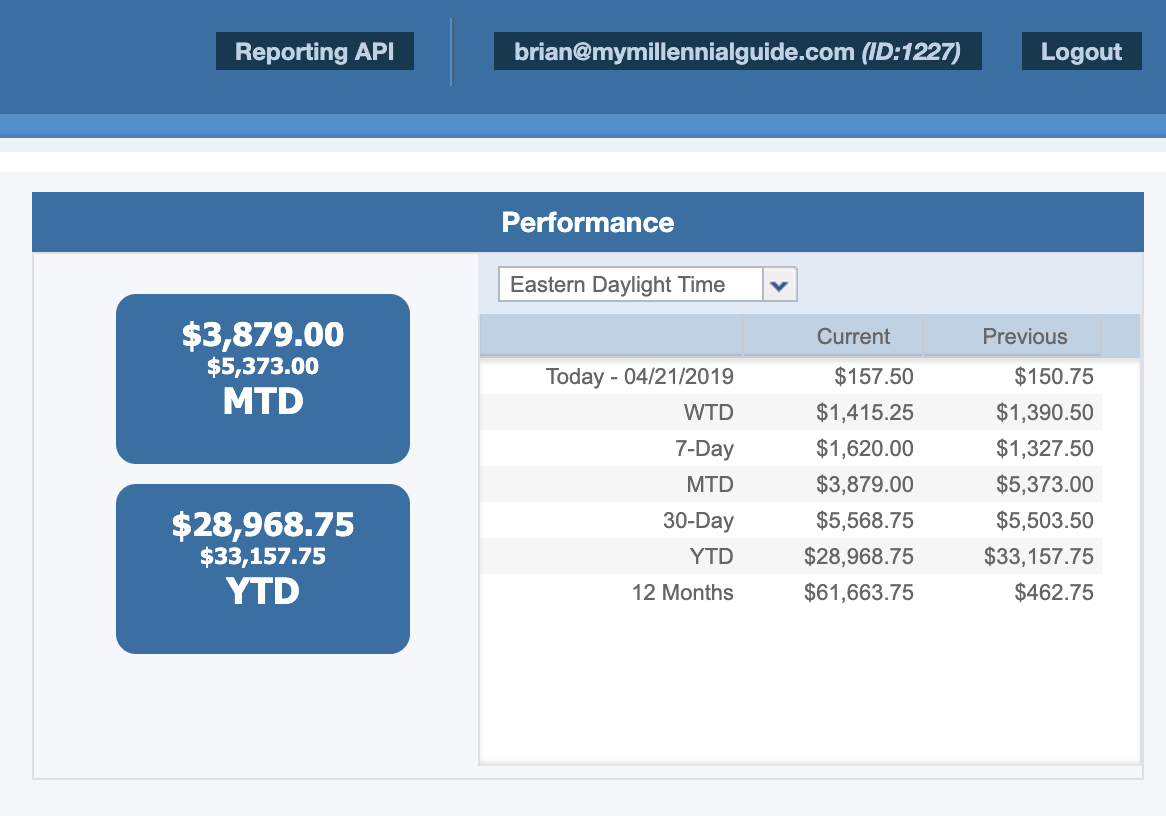 Bottom Line:
Survey Junkie is a highly rated affiliate program. If you've heard enough and wanted to sign up for yourself to start earning for Survey Junkie referrals you can get started here: 
---
Want to Earn Some Easy Cash?
---
Or if you wanted to learn more about the program and my honest experience, read on.
What is Survey Junkie?
Survey Junkie is an online survey site with a community with over 10 million members dedicated to making their voice heard. They open the window of communication between you and the brands we all love.
Members can share their opinions and suggestions reflected in the products and services of tomorrow through paid surveys.
You may have seen them on popular affiliate programs like Aragon Premium and other popular affiliate networks that personal finance bloggers love. However, a direct partnership with them allows them to better communicate with you as well as pay you more.
What was my experience with Survey Junkie?
Survey Junkie Affiliate Program Pays
It seems Survey Junkie is actually on the hunt for new affiliates to promote them. You might have even been reached out via email asking to join the program? If you're wondering if you should join them, listen up.
Survey Junkie is actually one of my best affiliate programs I am a part of. In fact, I made over $60K with them as an affiliate.
I run a few personal finance websites like www.mymillennialguide.com, and I promote Survey Junkie on articles on how to earn money online and best survey sites.
I'm a Survey Junkie member so I know that they are legitimate! Therefore, I am 100% comfortable promoting them to my readers (never promote something you can't back).
I even did a full-fledged review on the survey site.
How Does The Program Work?
If you join, you'll receive at least $1.50 per referral and the conversion is single opt-in. I've found the landing page to be very efficient (see landing page here), which is important.
I typically have an EPC of over $1.00 on a daily basis.
This means if you're paying for 0.15 to 0.30 cents per CPC on Facebook Ads/Google Ads, there is a lot of wiggle room to earn money. If you get a lot of traffic through social media or organic search, even better. But how exactly do you earn?
How To Make Money with the Survey Junkie Affiliate Program
If you're a personal finance blogger then your website monetization can increase dramatically through their CPL affiliate program.
There's no cost to you — ever!
Simply link to Survey Junkie and earn cash every time your visitors submit their email address on their website.
Here's an example below of how I promote them in articles on My Millennial Guide.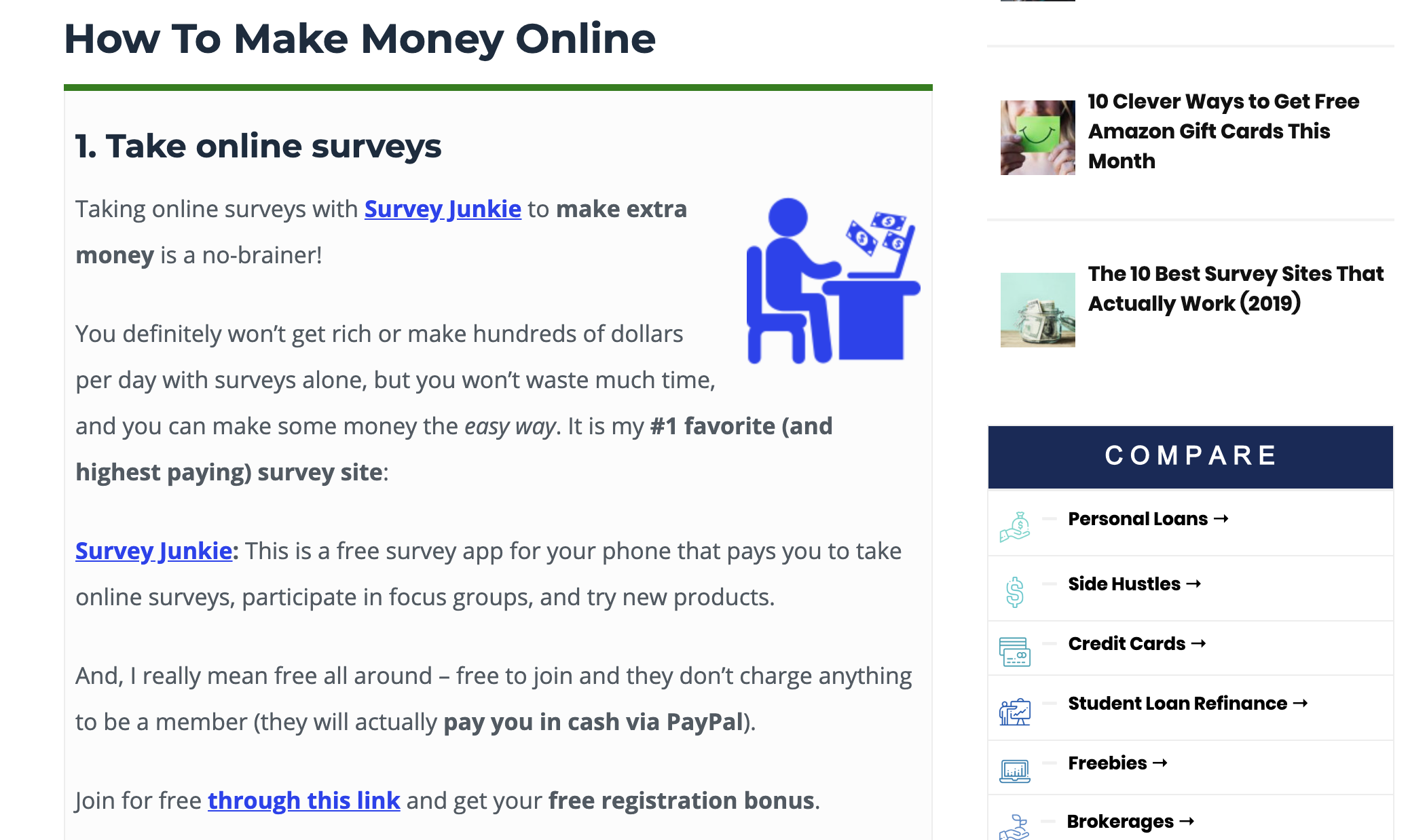 That's it!
You'll be successful because the Survey Junkie Affiliate Program offers:
* High Conversion Rates
* Unlimited Budgets
* Real-Time Reporting
* Dedicated Affiliate Support
* Convenient On-Time Payments
Want to partner up with them? You can join through here.
What Happens When You Join?
Once you join the Survey Junkie program, you get access to their Cake platform, allowing you to see clicks and conversions in real time.
They'll give you a unique link that looks like this:   http://bmv.biz/?a=1227&c=1&s1=
You'll use that link to promote their offer.
Keep in mind they only accept traffic from the US, Canada, and Australia and the general population, 18+.
Payout:  $1.50 per conversion (I started at this amount).  They count a conversion as an email submit, single opt-in.
Other terms would include: no co-reg traffic, no incentivized traffic, no pop traffic, no Craigslist traffic allowed.
Payment terms:  Monthly Net 30.  Minimum payout threshold:  $10
Lastly, they'll give you a ton of attractive creatives.  If you have any questions, you can always reach out to your affiliate manager.