Often times, a few hundred dollars can really help you out — if you need money quickly. During these moments, your ability to learn how to make 100 dollars a day can make all the difference.
But it is difficult to find ways to make hundreds of dollars within a day AND get access to the money immediately. But not anymore, there are real ways to find jobs that pay you hundreds of dollars fast.
Discover below the best strategies to make $100 fast!
Realistic Ways to Make $100 a Day Fast
Our recent post on how to make $10 fast in 5 minutes gained a lot of traffic, so we're back at it!
Here are proven strategies that are tried and tested to reach your money-making goals.
Whether that is downloading an app, making money selling stuff, taking surveys that pay, getting a new bank account, or signing up for a new credit card, you can earn legitimate money online.
So roll your sleeves up and go through this list to see which one works best for you to help you make 100 dollars fast.
1. ZippyLoan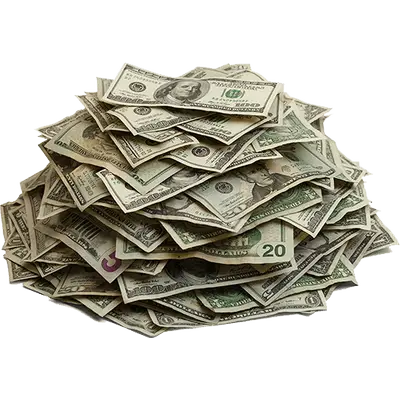 If you actually need money now, then you can opt for a personal loan.
When you need money in a hurry ZippyLoan is where to go. You apply for a loan through the Zippy Loan site, if approved they send your loan application to one of many loan providers.
You review the loan details and e-sign if you like what you see. No risk in checking what offers you'll get. You can borrow between $100 and $15,000 as soon as tomorrow. Loans service for up to 60 months.
ZippyLoan connects borrowers to lenders through their network of lenders. They'll find you the lowest interest rate and is one of the best no credit check loan. You can visit ZippyLoan here.
2. Chase Bank $100 Bonus
Chase Bank is offering a $100 bonus for new customers who open a Chase Secure Banking account and complete 10 qualifying transactions within 60 days of enrollment. Qualifying transactions include:
Debit card purchases
Online bill payments
Chase QuickDeposit
Zelle®
ACH credits
Money orders or cashier's checks paid
Direct deposits
You can open a Chase Secure Banking account online or by entering your email address here to get a coupon.
3. Food Delivery
Want to make $100 fast in the next few days just by delivering food around your city? There is a new side hustle for those who want to make some extra cash without compromising their time.
As a shopper, you'll pick and deliver the items that customers want and get paid for it. There are no set hours with delivery apps like Instacart or DoorDash. Just open the apps and shop whenever it works for you.
With Instant Cashout, you can opt to have your pay immediately transferred to a debit card. Or you can just get your $100 direct deposited to your bank account weekly.
Ready to shop, earn, and be a household hero for the people in your community?
4. Use Game Apps to Win Good Money Online
Do you want an easy way to help you earn $100 fast without leaving your apartment?
Heck, even if you're in a waiting room or standing in line, you can pass the time while making money. You love playing online games. Why not make a few dollars at it?
If you sign up for Solitaire Cash or Bingo Cash, you can play games online and win real money.
In Solitaire Cash, you can earn money by:
Playing in tournaments
Watching ads
Using referral codes
Using Swagbucks, InboxDollars, or Mistplay
In Bingo Cash, you can earn money by:
Competing against other players for real money in cash tournaments
Earning the most points by tapping the numbers as soon as they are called and wisely activating your boosters to daub extra squares or gain bonus points
Placing in the top three finishers for each round and winning a prize
With these game apps to win real money, you can earn up to $100 per win. However, more realistically, you can earn $3 to $10 per day. The highest-paying prize pool currently is $139, but occasionally higher prize amounts are available.
5. Walk Dogs or Pet Sit
You can get paid a lot of money for taking care of other people's pets.
Oftentimes pet owners will pay the big bucks to guarantee that their animals are taken care of.
If you don't want to find pet sitting or dog walker gigs, you can put up fliers or take to Facebook Marketplace to advertise your services.
Or you can use a free app called Rover which will connect you to pet owners who need these services. You can likely make $100 fast if you grind it out on Rover.
6. Start an Online Business
Starting an online business to earn $100 a day begins by identifying a specific niche based on your passion, expertise, or market demand.
Once pinpointed, choose a business model, whether it's selling products, offering services, affiliate marketing, or content creation (like blogging or vlogging).
Next, create a user-friendly website and optimize it for search engines to draw organic traffic. Engage in social media marketing and email marketing to build and nurture your audience.
Continuously analyze your results, refine your strategies, and scale your efforts. With consistency, adaptation, and a customer-focused approach, reaching $100 a day is achievable.
7. Create an Online Course
It's no secret that you can make $100 a day if you create online courses and host them on an online platform.
Starting an online course to generate income involves the following steps:
Identify your expertise or a topic you're passionate about and ensure there's a demand for it in the market. Conduct research to pinpoint gaps or needs within that subject area.
Once you've settled on a topic, outline your course content, breaking it down into modules or lessons. Invest in good quality recording equipment or software, and create engaging, informative content. Use platforms like Teachable, Udemy, or Coursera to host your course, or set up a dedicated website.
Next, promote your course through content marketing, social media, webinars, and email campaigns. Collect feedback from initial students to refine and enhance the course over time.
With a focus on delivering value and fostering student success, your online course can become a lucrative venture.
8. House Sit
You can become a home sitter on Care.com and earn from $10-25/hr being a responsible housekeeper or house sitter.
This is a perfect side hustle to pull off that allows you to earn money while on the job.
While you're house sitting you could also bring along your laptop and find more ways to earn online or even on your phone.
9. Fundrise
Wouldn't it be great if you could invest in commercial real estate and apartments without dealing with all the hassle of buying, improving, and re-selling real estate?
You don't have to be a millionaire to invest in these types of properties. You can now invest in large-scale real estate for as little as $10 with Fundrise.
Through their real estate investment products, investors earned an average of 8 – 11 percent on their money last year, and all without painting a wall or dealing with unruly tenants.
There is a reason why they currently have over 100,000+ users, this app really pays you. If you're interested, I recommend you sign up for more information from Fundrise by clicking here.
10. Turo
Making $100 a day with Turo demands a well-thought-out strategy. Start by selecting a vehicle that resonates with local demand; this could be a unique model, an electric option, or even a luxury car, as these often command higher daily rates.
Ensure that your vehicle is well-maintained, clean, and in excellent condition, as this enhances the user experience and can lead to positive reviews.
Pricing is crucial; initially, set a competitive price to attract renters and garner positive reviews. As your car gains traction on the platform, consider adjusting the rates based on demand, peak seasons, and local events.
Offering special deals for longer rentals or repeat customers can also be beneficial. Always prioritize excellent customer service, from smooth check-ins to open communication.
By keeping an eye on the local market, ensuring top-notch service, and continuously optimizing your listing, reaching $100 a day on Turo is within grasp.
11. Ibotta
It may be hard to believe, but Ibotta pays you for going shopping.
No, really, it does! The app presents you with a list of offers currently available on a wide range of products, from food to drinks all the way through to cleaning products.
The average Ibotta user earns $150 a year on groceries, online purchases, delivery, and more. Register for the free Ibotta browser extension and app today to start saving.
12. Get Paid to Watch Videos
Many of you have come here by searching "make money fast." Well, here you go. This has got to be one of the fastest and easiest ways to make money fast.
You can actually get paid to watch movie previews, celebrity videos, news and all sorts of other videos. You can sign up for sites like Swagbucks and InboxDollars that will pay you to watch certain videos.
They will tell you how many minutes you need to watch the video for and you might also be asked to like the video.
While you not going to make a career out of it, it's very easy money for pressing a few buttons on your phone in your free time.
There really is no limit when it comes to the question of how to make money online with these two sites. You can make easy beer money by spending 15 minutes a day watching videos and taking surveys.
InboxDollars pays you for watching videos and also pays between $1 and $1.50 per video, and many of them take less than 5 minutes to watch.
Swagbucks pays you to watch videos, take polls, search the web and get cash back for online shopping. It's similar to Survey Junkie, but there are also a few other ways you can earn money as a member (including a $10 bonus just for signing up).
13. Test Products
Another way to consider earning money quickly is by testing apps, games, or web apps on sites like UserTesting.com.
By testing apps, you can make a difference by working out bugs, making them easier to use, and improve a bunch of features.
On sites that pay you to test apps, you will be paid by the person who paid for the testing. So your feedback is very important so you'll need to be clear, concise, and honest.
Generally, the pay for each test varies between $3 to $60. The average payment is $10 per test. They pay $10 for every 20-minute video you complete.
14. Kashkick
Making $100 a day on Kashkick requires a blend of dedication and strategy.
Start by crafting an authentic profile, which can boost your chances of getting matched with higher-paying surveys tailored to your background.
Schedule dedicated times to tackle activities and stay vigilant for fresh offers. Dive into all the tasks Kashkick provides, from video views to shopping deals, to maximize your earnings.
A significant boost can come from referrals; inviting friends and family to join using your link can add up over time.
Additionally, strive for consistency: Kashkick often rewards users who complete tasks in consecutive streaks.
While aiming for $100 daily is ambitious due to the sporadic nature of high-paying tasks, combining efforts with other platforms can help you make good money.
15. Online Tutoring
Earning money online through tutoring involves leveraging your expertise in a particular subject and sharing that knowledge with students or learners globally.
To start, choose a niche or subject you're proficient in. Next, decide on the platform you want to use: there are numerous dedicated tutoring websites like Chegg Tutors, Tutor.com, and VIPKid, where you can sign up to become a tutor.
Setting competitive rates, offering flexible schedules, and marketing yourself effectively, such as through social media or word of mouth, can help attract students.
Regularly updating your teaching methods, seeking feedback, and staying updated on your subject matter will ensure you remain relevant and in demand.
16. Freelance Writing
Earning money online as a freelance writer requires a blend of skill, niche identification, and self-promotion.
Start by pinpointing a subject or genre you're both passionate and knowledgeable about. Specializing in areas like tech, health, or travel, for instance, can set you apart in a saturated market.
Platforms such as Upwork, Freelancer, or Medium's Partner Program offer opportunities for writers to showcase their skills and connect with potential clients.
However, having a personal portfolio website can further elevate your professional image.
As you build your reputation, remember to continuously hone your writing skills, seek feedback, and stay updated on industry trends. Effective networking and delivering consistent, high-quality work will be crucial for sustained success.
A Few More Ways to Make Money
Above, I've given you lots of ways to make 100 dollars fast. But there are a few other things you can do to bring in some extra cash.
In a bind? Need some fast cash? I'm talking about quick infusions of cash, not billions of dollars. If so, here are even more ways to make money quickly:
Nielsen Panel will pay you $60 to install its app on your favorite browsing device.
Get paid up to $9 per survey on Branded Surveys.
Get a $20 bonus from the micro-investing app Acorns.
Get paid to save on your electricy bill with Arcadia Power.
Earn coins towards gift cards from the lifestyle brands you love by completing fun and entertaining offers with Boodle.
Don't overpay on Amazon — Capital One Shopping can save you money. Get notified instantly when other sellers have a better price. Download Capital One Shopping for free.
Get paid to listen to music from a selection of 100,000+ radio stations with the world's top songs on Current.
Get paid for your everyday shopping with Drop.
Get free rewards on groceries on thousands of products every day, no matter where you get your groceries. Just scan your receipts and let Fetch Rewards do all the work.
Sit back on the couch and play games offered in the app while earning coins, which you can redeem for real money gift cards with Flash Rewards.
Get paid for playing games on your Android device with Gamehag.
eToro is a mobile application for trading options that spares you the mumbo jumbo, and let's you start making bets for or against top companies and ETFs.
Get paid to lose weight with HealthyWage.
Get paid for reading emails with KashKick.
Lucky Level brings you free scratch cards and even a spinning wheel for a chance to win money and gift cards. Play tens of scratcher cards every day for your chance to win up to $1,000. Thousands of players have already enjoyed risk-free winning experiences.
Get paid for sharing your opinion at Opinion Outpost.
Get paid to rent out your RV at RVshare.
Make money investing and score 16 free stocks with Moomoo.
Win cash playing bingo with Bingo Cash.
Make $10 just for signing up to Rakuten.
Get a $5 bonus from InboxDollars.
Get top dollar for your used electronics selling directly to Whistle.
Get paid $22/hr teaching English from home at EducationFirst.
OhmConnect will help you use energy when it's cleanest and reward (in cash) you to save when it's dirty. Only available for California residents.
MySoapBox is an online research community that will pay you real money. They collect feedback from members on products, services, and experiences.
Participate in surveys and discussions for rewards with Toluna Influencers.
Join millions of others in sharing your opinion on politics, sport, entertainment and more with YouGov.
QuickThoughts offers rewards like free gift cards just for taking fast, simple surveys, opinion polls and questionnaires.
Did you know right now in the USA there are over 35 billion dollars in unclaimed funds? Most people aren't even aware they are owed money. You could be owed for any number of other reasons and not even realize, such as insurance policies, uncashed checks, utility bills, refunds, unclaimed wages and more. You can check with Unclaimed Money Search.
Best Side Hustle Ideas to Make $100 Fast
Short on funds and time and need to make 100 dollars fast, now?
Coming up with 100 dollars isn't going to be easy for most average Americans. However, there are some secret hacks you can use if you are willing to take action.
Anytime you read something online that promises you fast and easy money, it is most likely a scam. But what you can do when you're in an emergency and need money really fast?
We can help. These ideas are vetted through our personal finance experts on our site, to help you get $100 as quickly (and safely) as possible.
Your best bet is to use multiple ideas to get you towards the goal of making 100 dollars fast a day.
Here are more ideas:
46. Earn money passively by reading emails.
Earn extra cash by evaluating products and services. Get up to $50 for each completed survey, product and service reviews. Plus earn up to $.50 for every email you read.
Free to join — InboxPays compensates its members to test out products, services and give feedback on those tested. It's free to sign up and only requires a small amount of information.
Click here for a registration bonus after confirming your email address.
47. Earn passive income by renting your spare room.
Like Uber did for Taxis before it, Airbnb is fast revolutionizing the holiday and travel accommodation industry, and you're set to profit from it.
It is an online marketplace for people with space, rooms, or even entire houses to spare, Airbnb lets you list your place for rent just like a hotel or motel.
Maybe you're traveling overseas yourself and want to make the most of your empty place while you're away?
Perhaps you have a spare room that currently houses nothing more than empty boxes?
With Airbnb, you fill that empty space in your home and fill that empty spot in your wallet with $100 fast in under a week!
48. Get paid to take surveys online.
Taking online surveys to make extra money is a no-brainer!
You definitely won't get rich or make hundreds of dollars per day with survey alone, but you won't waste much time, and you can make some money the easy way. Here is my favorite (and highest paying) survey site:
Survey Junkie: This is a free survey app for your phone that pays you to take online surveys, participate in focus groups, and try new products. And, I really mean free all around – free to join and they don't charge anything to be a member (they will actually pay you in cash via PayPal). You can get a free registration bonus for free when you join through this link.
You can also join the Survey Junkie affiliate program and earn by referring people!
49. Score a $10 bonus from this company.
Swagbucks is another great survey site to make some extra money in your free time. As a new member, you can earn up to $35 per survey! They are known for giving out fun, top-paying surveys. And you can also get paid to play games and watch TV!
It's similar to Survey Junkie, but there are also a few other ways you can earn money as a member (including a $10 bonus just for signing up).
Other ways you can make money with Swagbucks outside of surveys:
Cash back program for online shopping (Includes $10 bonus).
Get paid for searching the web (Includes $10 bonus)
Watching videos (Includes $10 bonus)
Swagbucks is conveniently offering a $10 bonus just for signing up through this link, so act fast.
There are quite a lot of survey sites out there. These just happen to be the more reputable ones that are legit.
As always, be wary of handing out your information to random survey sites.
I recommend using an entirely separate email address for online paid survey sites so you don't clutter your inbox.
50. Download a money making passive app.
This is an easy way to make money from home. By using the internet as you do every day, Nielsen invites you to make a difference – and you can make money too.
You don't even have to do anything other than register your computer or phone.
Nielsen will pay you $60 a year to keep their app on your favorite internet browsing device and they also give away $10,000 each month.
So you can possibly make more than $60 for no effort at all.
51. Get paid to lose weight.
HealthyWage offers people the opportunity to earn cash for losing weight. Earn cash for losing weight? Sounds too good to be true, but you read it right.
The company was founded in 2009, and it's HQ is in New York, and part of their mission is to provide ways to have a measurable impact of the growing obesity epidemic in the US.
They do this by legitimately offering cash prizes to make weight loss and fitness more fun and effective. Since HealthyWage was founded they have been featured in literally hundreds of newspapers, magazines, TV shows, blogs and website.
How can you make money with it? You essentially bet on yourself and how much weight you can lose. Since they are promoting ways to be healthy, your winnings depend on how much weight you lose and how much you bet.
It's a great way to make money and be healthy at the same time.
52. Earn residual income leaving shows playing on your phone.
All you need to do is watch videos to earn money at InboxDollars. Given how easy it is to lose yourself in a never-ending cycle of YouTube videos, this one couldn't be easier.
The catch here? The videos include ads. While they may annoy you while browsing YouTube, you also don't get paid to watch them.
At InboxDollars, you do. Who wouldn't watch an ad or two if they were getting paid? You can just leave this playing on your phone and collect money, this is referred to as phone farming.
53. Join sites that give you free money to invest in stocks
Yup, it's true! There are several companies out there that will give you free money to invest in stocks. One of the most popular ones is:
Acorns: CNBC calls it "the new millennial investing strategy." Once you connect the app to a debit or credit card, it rounds up your purchases to the nearest dollar and funnels your digital change into an investment account. Sign up to try it risk-free with a $20 sign up bonus.
54. Deliver food in your car and earn.
If you're free nights and weekends, you can earn extra money delivering food for fellow citizens around your city. It's easy to deliver food with DoorDash, if you have a car, it's a perfect way to make a good amount of extra cash whenever it's convenient for you.
A lot of people do this full time, so you can imagine that's it definitely possible to do this on the side and make extra money by delivering food with Uber, and be on your own schedule.
55. Make $100 fast with Mistplay.
Another way to earn $100 fast is through playing games on your mobile phone. You heard right, Mistplay will actually give you points that you can cash out for gift cards and cash rewards.
The only thing is that it's only available on Android phones in the Google Play store. So if you're an Android user, you can download it here for free.
56. Earn generous returns investing in real estate with only $500.
Fundrise allows individuals to invest in commercial real estate online through an eREIT (Real Estate Investment Trust).
Their crowdsourcing model sets them apart from a traditional REIT allowing the average investor to participate in deals for as little as $10.
The interesting thing about Fundrise is that it lets investors buy into private commercial and residential properties by pcooling their assets through an investment platform.
Since the eREIT is sold directly to investors cutting out middle-men, they can have fees lower than 90% of the competition.
Ready to Make $100 Fast? Go Get It!
If you went through this list then you should have found several ideas to help you earn $100 fast during this crazy economy.
Thank me later.
Enjoyed these best money-making ideas to earn money? Then be sure to come back as I will continue to update this post often.
Enjoy Your $100 Earned!
There you have it. If you've finished the list, you've just made at least $100 in FREE money with this list that teaches you how to make 100 dollars fast.